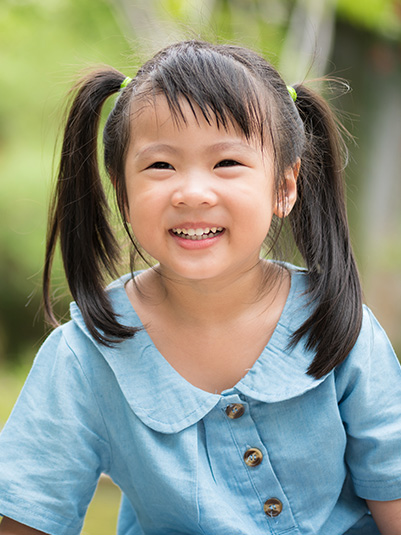 Dr. Shetty and the Children's Dental Clinic team recommend that your child visit our Green Bay dental office as soon as the first tooth erupts or by their first birthday (age one). It is important that your child's newly erupted teeth receive proper dental care and benefit from proper oral hygiene habits right from the beginning.
Why choose a pediatric dental specialist?
Dr. Shetty is a pediatric dentist, which is a specialist trained in just treating infants, toddlers, and adolescents. Pediatric dentists have at least two additional years of training focused on the growth and development of the dentition and mouth, feeding and habits, behavior management, children with special needs, and common childhood diseases and treatment modalities.
As a specialty office, our staff members are also trained in the unique needs of children. Each child comes into our office with his or her own background or history. We try to understand their feelings, make them feel comfortable, answer any questions they may have, and accomplish our treatment or goal with everyone feeling successful.
We love to teach each child and encourage questions with the belief that children will follow instructions if they understand the benefits. This not only improves your child's health now, but also sets the stage for a lifetime of good oral health habits.
Our Services: Customized for your little one's ideal health
Preventive care (exams and cleanings)
Sealants
Fluoride treatments
Restorations
Nerve treatments
Crowns
Space maintainers
Mouthguards
Whitening
Extractions
Nitrous oxide analgesia
Hospital dentistry
Home Care
Your child's first primary or baby teeth will begin to erupt between the ages of six and 12 months, and will continue to erupt until about age three. Parents can wipe out the gums and mouth before teeth erupt. Once teeth start to erupt, use a soft toothbrush or finger brush using water or a non-fluoride training gel. Once all teeth have erupted, a rice-size amount of fluoridated toothpaste can be used once a day with adult supervision. Once your child can fully spit, a fluoride toothpaste can be used twice a day.
Dr. Shetty and our team want all children to feel comfortable and enjoy coming to the dentist. We know we've done our job well when parents and kids say they can't wait to come to their dental appointments!