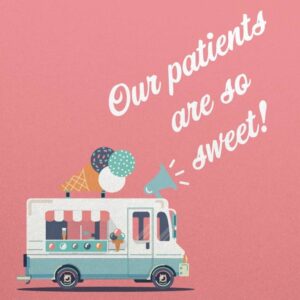 Really THE BEST
We have really loved Dr. Miller and Staff. They made the first dental visits for a girls 2 & 4 years old so easy and fun. I appreciate how they focus on the girls and speak directly to them. They are patient and understanding when girls get scared or unsure. They talked about their visit to the dentist all day! We look forward to more visits and would recommend them hands down!
- Megan R.
THE best
Every time we go to Dr. Miller's office my son is always excited with no fears. The hygienist talks to him and really lets everything about the appointment go in a pace that he is comfortable with. Nothing seems rushed and you're not just an appointment to get through. They explain everything they are going to do so there are no surprises. I honestly feel like the transition to his brushing at home is because it is such a good experience at the dentist. He will always say "Dr. Miller would be happy I'm brushing my teeth right now." And we only go twice a year, so obviously they make a good, positive impression on him!
- MB H.
The Best There Is!
Our two children see Dr. Miller and nurse Ang, and they could not be happier! Our son is autistic, and Dr. Miller is endlessly patient, kind, and understanding with him. If you are looking for a pediatric dental practice that makes their patients feel comfortable and safe, all while providing the most up-to-date dental procedures, this is the place for you.
- Kelly M.
Highly recommended
We love Dr. Miller and her team! They are wonderful with my 2-year-old — professional yet fun and they do a great job of meeting my daughter where she's at in terms of development. I always get my questions answered promptly and to my full satisfaction. My daughter doesn't love actually getting her teeth checked but the rest of the experience is a lot of fun for her!
- Julie V
Great service
Everyone is very friendly and very knowledgeable with parents of what needs to be done. Also, kids find the staff very friendly and comfortable to be with.
- Kristin L.
Fantastic
Everybody we encountered today was super friendly and knowledgeable. I was very impressed by everyone!
- Amanda D.
Amazing
Dr. Miller, Ang, and Carrie the hygienist took the best care of the girls today. ( Ages 4&8) So patient, gentle, and kind. It was the 4yo first dental cleaning and she came out smiling ear to ear! I definitely recommend to anyone!
- Christine D.
Always friendly!
The entire staff is very knowledgeable and friendly. Thank you again for providing such great service.
- Kendall P.
High-Quality Care and Wonderfully Friendly Office
We have been visiting Dr. Miller and her staff for about 15 years for all of our son's dental exams, cleanings, and care. She is always very thorough and talks to both us and our son rather than just talking to one or the other. Dr. Miller never seems rushed no matter how many patients are there and gives you the one on one attention deserved during the appointment. The staff at the office has been amazing, always so sweet and welcoming. Thank you for the great service!
Excellent Dentist and Excellent Staff
Dr.Miller and the entire staff are welcoming, knowledgeable, and we always have positive visits.